Throughout the world, and for all of recent history, there's been one simple fact: Cool guys wear helmets. Snowboarders? They've got helmets. Spec ops? Tactical helmet. Underwater welders? Diving helmet. Swiss guard? Spiky helmet. While head protection doesn't truly guarantee coolness, it certainly offers the typical airsoft player a number of advantages. Adding a helmet to your gear closet offers everything from head protection to extra camouflage to camera mounting, generally in a fairly light, compact package.
Short On Time? Here Is The Bullet List
The benefit that all airsoft helmets have in common is head protection. While most of your body can take a BB hit without too much damage, your head is special in that the skull is only shallowly covered with blood vessels and skin. Even a low-powered shot to the head can leave a nice wound there: I once took a hit to the back of the scalp that bled for a week and a half- not a good look showing up to work on Monday morning.
Beyond just keeping your dome safe, most modern helmets offer some side benefits. Many militaries now issue helmets with standardized rails, mounts, and attachment points for various kinds of equipment. Most commonly, you'll see three major types of attachment on helmets designed for airsoft: Velcro, side rails, and most exciting, night vision mounts.
Velcro is pretty self-explanatory for anyone who's used the marvelous hook-and-loop stuff before. Large areas of velcro are present on a number of modern helmet designs, and allow the user to attach anything from their team patch to a first-person view (FPV) camera, to a rear-facing LED strobe identifying them as friendly to any teammates behind them.
Side helmet rails are a mostly-standardized attachment point that is usually installed on a helmet wrapping around the ears. Their chief use is to mount ear protection specialized for use on ballistic helmets, but most helmets have enough rail space to add other gear like flashlights, lasers, or FPV cameras.
And, of course, night visions mounts are extremely cool. Technically, the part on the helmet is the "shroud"; the mount is the part that attaches to both the shroud and the night vision goggles themselves. While the shroud is designed primarily for night vision goggle use, real NVGs can cost anywhere from $600 at the bare minimum to $16,000 and up for third-gen panoramic night-vision goggles, so it might be advisable to buy a real helmet rather than a replica to keep your investment safe. Instead, you might look into other uses for the shroud- replica NVGs are available, and of course, you can also mount an FPV camera off the shroud. Most airsoft helmets use an Ops-Core style shroud, but be sure to do your research before you buy your helmet and mount so you know they'll be compatible.
What are the Different Kinds of Helmet Used For Airsoft?
In general, there are two types of helmet out there: ballistic helmets, which are meant to protect heads from small arms fire, and bump helmets, which protect the head from knocking into hard objects much like a bike helmet would. As a rule, in the real world bump helmets are much lighter and better ventilated than a ballistic helmet- instead of heavy kevlar-resin layering, they're made out of foam that's designed to crush before your head does.
Fortunately, there's not too much difference between airsoft replicas of either type- almost all replicas are made out of molded ABS plastic for the hard layer, with foam and foam padding inside for comfort. Generally, they won't provide much in the way of protection against bullets or BASE jumping, but they're more than sturdy enough to keep a sniper from leaving a nice welt on your forehead with his tuned 550FPS rifle.
Most helmets available as airsoft replicas are fairly modern designs. The oldest type of helmet you'll frequently see as a replica is the Modular Integrated Communications Helmet (MICH), issued in the early 2000s to US Army forces to replace the heavy PASGT helmet. Most airsoft players will get replicas of newer models, like the Ops-Core FAST helmets or Team Wendy bump helmets.
Airsoft helmets in the United States are usually imported by the brand Lancer Tactical, although some smaller Asian brands like WoSport or G-Force import some of their own products too.
Best Airsoft Helmets on the Market
If you want one helmet for all your airsoft needs, this is probably the one. A replica of Ops-Core's Maritime Spec Ops helmet in common use with militaries around the globe, this helmet includes all the bells and whistles. That means NVG shroud, side frame rails, chin strap, velcro attachment points, and bungees for securing NVG gear.
The helmet was specifically designed to address a shortcoming of the MICH/ACH/ECH style helmets: in marine operations, the ear cups on the earlier helmets could catch a rogue wave like a scoop, twisting the user's head around and possibly causing neck injury. Maritime helmets like this (also referred to as "high-cut") remove the ear cups, and coincidentally, provide a space for the user to use their own headset/ear protection.
Like all of Lancer's products, this one is made of an ABS plastic shell with foam inserts providing padding. It's worth noting that the foam inserts can be replaced with ones from other manufacturers for a better or more comfortable fit. One downside that all airsoft replica helmets share is that they're very much a "one size fits all". While the head straps are slightly adjustable and the foam padding provides some flexibility, if you have a very large or very small head you may struggle to fit into one.
Pros:
Very modern design
Works with most styles of ear protection, goggles
Rail and velcro space aplenty
Available in multiple colors
Cons:
Somewhat pricey
Only comes in one size
Not rated for impact protection
The MICH 2001 helmet is one of the classics. Introduced as a variant of the original MICH helmet put into service by the US army, it removed the ear cups for a better fit and to mitigate the issues caused by maritime use. Fortunately, the removal of ear cups doesn't really affect most airsoft users; you're far more likely to be shot in the forehead or back of head due to the nature of most airsoft engagements. While this helmet doesn't offer any space for tactical gear, it still provides a hard shell against rogue BBs and comes in at a fairly attractive price as well.
This helmet is constructed of a molded ABS plastic shell with foam inserts providing padding. It's worth noting that the foam inserts can be replaced with ones from other manufacturers for a better or more comfortable fit.
Pros:
Fairly retro style
Inexpensive for a replica helmet
Works with most styles of goggles
Available in multiple colors
Cons:
No rails or NVG mount
Only comes in one size
Not rated for impact protection
This unusual helmet is a replica of Crye Precision's AirFrame helmet. Its odd appearance is a result of CP's search for a helmet setup that would provide ballistic protection without causing the soldier to overheat in the field. As a consequence, Crye designed a helmet built in two pieces with an air gap between, allowing hot humid air to be evacuated from the head much like how the vents in a bicycle helmet work.
The helmet's primary attachment mounting comes from the over-the-ear rails, but it's also got the bolt holes for attaching an aftermarket NVG shroud if need be.
This helmet is made of an ABS plastic shell with foam inserts providing padding. It's worth noting that the foam inserts can be replaced with ones from other manufacturers for a better or more comfortable fit. A frequent recommendation for replacements is Team Wendy, a tactical and rescue helmet manufacturer noted for innovation and quality products.
There's a common issue that most airsoft replica helmets share: they're definitely "one size fits all". While the head suspension strap is adjustable and the foam padding provides some flexibility, if you have a very large or very small head you may struggle to fit into one.
Pros:
Relatively unique design; rare to see on the field
Works with most styles of ear protection
Has provision for NVG shroud attachment
Available in multiple colors
Cons:
Somewhat pricey
Only comes in one size
Not rated for impact protection
A skate helmet, you say? What does that have to do with airsoft? Well, skate helmets aren't entirely unknown on real-world battlefields. Before "tactical" bump helmets were manufactured, special forces operators in a number of different services (notably US units like DEVGRU and Delta) used Pro-Tec style skate helmets for high dynamic operations like off-roading or urban close quarters.
Skate helmets are a great option for airsoft, too, since you don't need to stop any bullets with them. They're lightweight, inexpensive, and best of all, they're rated against impact, providing a little more security against concussion. Not to mention, unlike airsoft helmets, they're available in a range of sizes. The cost is that usually, you'll have to give up tactical features like mounting rails or camouflage covering. However, with a little spray paint to provide some camo and some things from the hardware store, you'll be back to tactical in no time.
Pros:
Very protective (and certified to be so)
Highly inexpensive
Used by real-world operators
Available in multiple sizes
Cons:
Not available in camouflage colors
No options for mounting lights, lasers, or cameras
This one got picked for the fun factor; loosely based on Galac-Tac's Star Wars-inspired cosplay helmets, it's a science-fiction take on airsoft head protection. It should provide full face and head protection as well as NVG mounting and a frame rail for lights or earmuffs. Not to mention, it's got a little velcro mat applied to the rear for attaching patches from a galaxy far far away…
Just like most of the airsoft helmets on this list, it's made of ABS plastic with interior padding; however, it also has a true twist-to-adjust setting for the head suspension, allowing you to dial it into your head size for better adjustment.
One thing to be careful: Mesh is not a good protection solution for most airsoft use; at the very least, a BB may shatter on the mesh and the fragments may enter your eye. Be sure to wear safety glasses underneath.
Pros:
Definitely the coolest helmet on the block
Works with most styles of ear protection
A little velcro and mounting rail sections
Available in multiple colors
Cons:
Very expensive
Doesn't provide ANSI rated eye protection
Not rated for impact protection
Best Airsoft Helmet Setup Final Thoughts
If you find yourself in need of a way to mount your action camera or radio headset, or if you're just concerned about head injuries during a high-energy game, a helmet could be a good choice for you. Whatever your needs and budget, there are options for you, from a spray-painted skate helmet to a highly adaptable replica of a maritime frame helmet. Regardless of what you end up deciding on, get out there and play safe!
Thank you for visiting myapx.shop and if you liked this article I highly, highly encourage you to check out iamairsoft.com! This site is chalk full of Airsoft information from buying guides to product reviews. And of course if you like any of the products that you see there, please click on one of the BUY NOW buttons to make your purchase on Amazon. As an Amazon affiliate, they make a small commission off any purchase made through their website. This commission is how they can provide you with informative articles. You will not pay more on Amazon if you click through their website because the price is the same. For more great products check out myapx.shop/shop and for more information about the game, check out iamairsoft.com Airsoft Buyers Guides and Airsoft U!
 Original Author: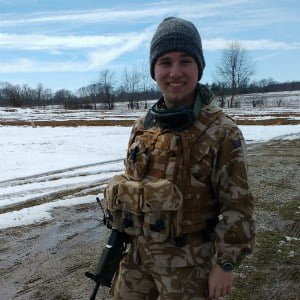 Noah Mains is a writer, an airsofter, and most importantly, he's stuck in the 80s. From Colt SMGs to David Bowie to brick phones, he has an acute appreciation for the greatest decade, and is more than happy to share his enthusiasm for the ALICE gear system (the superior loadout, of course) with anyone who'll listen.